Wipeout Fusion Craft Blueprints Uncovered!!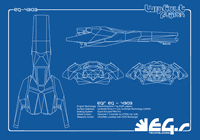 WipeoutZone has managed to gain access to exclusive ship blueprints of the craft from Wipeout Fusion. The details of each teams' AG-Racer are represented in fine wireframe detail, with weapon and drive details outlined at the foot of each plan.

Although there are some cool WipeoutZone Blueprint desktop wallpapers in the pipeline, I will also be offering these to order for a small contribution to the running of the site. Your choice of craft blueprint will be printed and signed by the artist, ready for mounting on a wall of your choice. More details to follow...